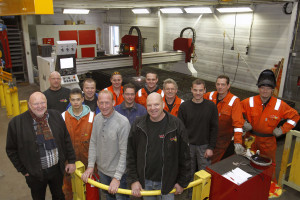 Edwin van Dijk (46 ) occurred in January 1996 to the three directors of VDR – Van Dijk Ruijgrok BV . Since 2011, he carries out the management of the company, which specializes in performing installation and construction . The company was founded in October 1995 by Edwin 's father, Wil van Dijk and Peter Ruijgrok . They started in Callantsoog . In the early years, they had an opportunity with the design and construction of machinery and equipment for the flower bulb sector to build quite a good reputation. In addition, they were to perform specialized construction work increasingly for other sectors, including industry, defense and government agencies . They also were engaged in the production of goods lifts.
Due to rapid growth, the company had to move in 1998 to a bigger facility in Anna Paulowna. After a strong start, theactivities in the flower bulb sector decreases dramaticly. Edwin van Dijk in 2008 saw a chance to tap an entirely new market. This was the offshore industry and from that time he managed to acquire, along with the highly motivated and strong team of VDR an important position in this sector with great commitment and perseverance. The company works a lot on offshore ships the Dutch and Belgian ports, but especially in Den Helder. On board these ships the work will include inspection, repair, maintenance, modification and construction. The required samples above, stainless steel and aluminum structures to be built in the workshop at Anna Paulowna. Furthermore, VDR built for Helder training institute DHTC a special fire training helicopter, also the company supplies special tools for the offshore industry . "If we had gone alone to focus us on the flower bulb sector, than our company had now only a few employees counted", says Edwin van Dijk . " Because we have tapped into a new market, we now employ more than twenty people and we have very modern means of production".
The new website of VDR-AP is online! On our new website you can find information about our company, our products, machines and you can take a look at our new photobook.
We can now add more quickly the latest news on our website, and it is easier for us to add new photos and videos.
In addition you can also easier stay informed about VDR-AP by using Twitter and Facebook, which now also can be found at our website.